Yet Another Gift for Kevin Levin
Several weeks ago I drew attention to a series of Civil War toy soldiers that commemorated the battle of the Crater, a subject of interest to fellow blogger Kevin Levin.  Little did he know that it would be only the first post on the subject of Civil War toy soldiers.  I think readers of Kevin's blog will agree that I have an even more appropriate gift for him.
Several years ago, as I was strolling down the streets of Gettysburg, I entered one of the many stores selling this and that to the visitor.  I went over
to the toy soldiers.  At first glance they seemed none too impressive, until a certain box got my attention.  I did something of a double take.  Perhaps my eyes were going bad at last: it was time to get those bifocals I had long dreaded wearing.  It simply couldn't be what I thought it was.  Then I slowly reached out to pick up a little box, adorned with the Confederate battleflag.  The box description was quite simple: "Confederate Infantryman."  On the side there was additional information: "Hand Painted Historic Figurines" (and for only $3.75!).  Still, this toy soldier was not for everyone: "Warning: Not for Children Under 3." 
Now, you have to understand something: I am a very selective collector of toy soldiers.  My tastes tend to run to generals (Grant, Sherman, Meade … I was not so high on the Thomas figure … confirming what many have said about me).  I do collect soldiers, usually Zouaves, especially from the 5th and 146th New York, in which my ancestor, James L. Denton, served.  Oh, and I have two Wellingtons and a Nelson from a trip to London.  I have a few command groupings, and I rarely buy anything I don't find attractive, unless it is just so bad that somehow it becomes irresistable. 
But I don't collect Confederates.  Oh, I probably will buy a flag bearer from the 28th North Carolina for my wife, who is descended from someone who served in that regiment, but over the years I have received (not purchased) a single Confederate, and that's because he's shaking hands with someone (as you will see).  That is … until that afternoon.
Hard to tell what it is?  Hey, let me open it up (I have in fact not opened this package until a few hours ago, for the purposes of this post.  The sacrifices I make for you people …).  Careful …
Here it is: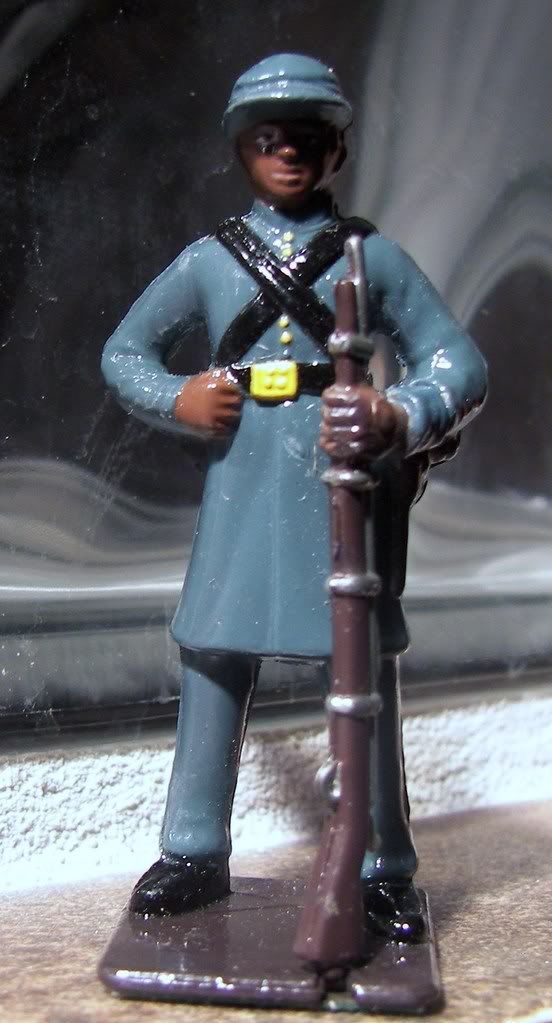 Yes, folks, it's just what you think it is: a black Confederate soldier.
You can use your black Confederate soldier to convey all sorts of messages about the war. 
For example, pose him with Grant and Lee shaking hands at Appomattox, to emphasize the reconciliationist them that so many people like … (in warm, soft lighting)
… or, if you are interested in counterfactual history, especially you folks who are unhappy with what happened in 1865, I give you this on the right: Grant shaking hands with Lee before he's taken away to Libby Prison by that always faithful black Confederate soldier …    after all, histo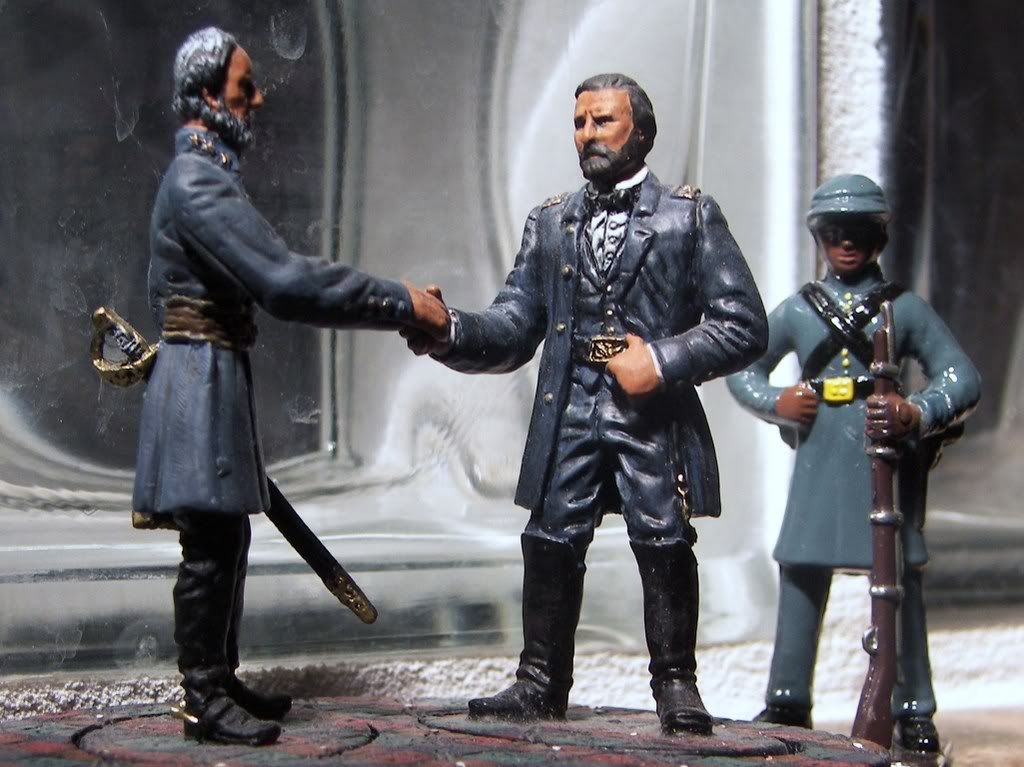 ry is what you make (up) of it in some people's minds.
So, Kevin, you can now have what you always wanted: tangible proof that African Americans served in the Confederate army, under arms, in what appears to me to be a terribly neat uniform.  Even better, he's not pointing his weapon at anyone, so no child might get the wrong idea and use him to turn on his fellow white Confederate soldiers.  But he's in full uniform, with a weapon, so don't go telling me that people are trying to count teamsters and cooks and servants as soldiers.  These toys don't lie. 
Only in Gettysburg …