On the Road Again
This coming weeked I've decided to celebrate the 186th anniversary of the birth of Ulysses S. Grant by doing a little traveling (although not to Grant's Tomb).  On Thursday I go to Washington, DC, where on Friday I speak at the United States Capitol Historical Society's conference on "Congress and the Crisis of the 1850s."  I'll be speaking on the caning of Charles Sumner, which someone rendered as follows: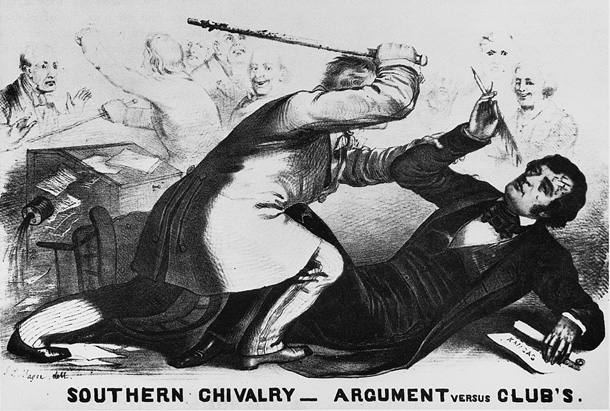 Then it's off to Massachusetts (Sumner's home state), where on Saturday I'll be interviewed by Dean Larry Velvel on the changing reputation of President Grant at a conference entitled "Chasing Success or Courting Failure: an In-depth Look at the Attributes an American President Must Possess for Success" at the Massachusetts School of Law in Andover.
I'd venture that some historians used to treat Grant's presidency much like Representative Brooks treated Senator Sumner.  They might rely upon the notions advanced by none other than Henry Adams, whom as a boy idolized Sumner, that the progression from Washington to Grant upset Darwinian notions of evolution or that a great soldier might make "a baby politician."  In the last two decades certain Grant biographers and students of the Grant presidency have challenged those dearly-held conceptions of a bumbling idiot who presided over eight years riddled with corruption and nepotism, to say nothing of sheer executive incompetence (the only debate being whether Grant was a fool for supporting Reconstruction or a knave for abandoning it).  That said, what I have found most interesting (and perhaps disturbing) about these cries for revision is that some of the historians and biographers involved have taken it upon themselves to raise Grant's reputation in those polls assessing presidential performance, as if scholarship on American presidents has become history's version of the BCS to rank college football teams.  I have found somewhat less disturbing the fact that people who claim to want to know a great deal about the Civil War tend to be less concerned about the road to secession and war and the path followed by Americans, black and white, northern and southern, after the war.  That may be because I'm resigned to that result: one way for people to get around contemplating disturbing issues about the war is to pass by those areas in their haste to recount the exploits of leaders and soldiers as they retell campaign and battle narratives.  That Bleeding Kansas or the massacre at Colfax, Louisiana, are just as much battles as are Gettysburg or Antietam — and as important in shaping the
course of events between the 1850s and the 1870s — seems to elude some people. 
But I accept that, however unwillingly.  What I don't accept are scholars posing as pollsters who see their mission as improving Grant's image with an eye to kicking him up a few notches in those exercises known as presidential performance rankings.  Forgive me for suggesting that historians are supposed to help explain and understand the past, not don cheerleaders' outfits. 
So we'll see how this goes.  I've spoken at the Massachusetts School of Law before, most memorably in October 2003.  My speaking engagement coincided with the American League Championship Series that year between the Boston Red Sox and the New York Yankees.  On the afternoon after I spoke, we adjourned to Dean Velvel's home, where we saw this:
As you may recall, the Yankees went on to win that game, and eventually the series.
I had a talk to present the next day, and as I walked to the podium, I smiled … then I reached behind me and donned the Yankees cap I had brought with me in anticipation of its possible use.
Fortunately, I did not suffer the fates that befell either Senator Sumner or Don Zimmer.  And given that this was Andover, the home town of my prep school arch-rival Phillips Andover Academy, this may have been even more remarkable.   
And thus endth another post that brings together history, professional sports, and popular culture in always seamless fashion.